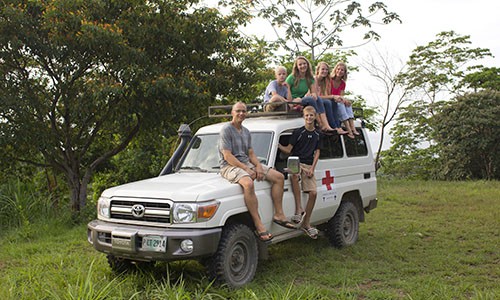 Meet the Hryszczuk (pronounced "Hers-check") Family of Belvidere, Illinois! Like many of our clients, Steve Hryszczuk, found McFie Family Insuranceonline and called our office. We met over the web and he purchased a Whole Life policy on his life. Later I had the privilege of meeting Steve face-to-face when he came to one of our live events.  A few weeks ago, I received this beautiful email from Steve and he gave me permission to share it with you. -Tom McFie

Tom and Family,
This morning on my prayer walk I was reflecting on how much whole life insurance has benefited my family. Just a short note to illustrate the impact you're making…. Participating whole life insurance is the best financial investment I have ever made.
Let me explain: I am a married, 52 year old anesthesiologist, father of four teenagers. I have invested in several "can't lose" investments over the years, and I've lost tens of thousands of dollars. Sadly, I'm sure many can relate.
In my mid-40s, I met Tom McFie. Tom and his team (his talented family) at McFie Family Insurancehelped me understand the unique benefits of whole life insurance. Thankfully, I was at a place in life where I opened my mind and was teachable.
Here's how I see it-One dollar does many things at once.
For example:
Instant financial protection for your wife and children should they lose the family's primary breadwinner.
An investment with contractual guarantees to grow NO MATTER WHAT HAPPENS WITH THE ECONOMY. Many companies have had positive growth every single year AND pay a nice dividend, for OVER 100+ YEARS!
An investment that will grow TAX FREE, and then pay you back for years tax free.
Liquid cash that you can pull out to use for WHATEVER YOU WANT, no questions asked. And get this — the investment will continue to grow AS IF YOU LEFT THE MONEY IN. Who can do this with a pension fund or 401K?
It's up to you to decide when and how you will pay the money back. You are in control of this.
Can I show you some of the things I have used my growing "personal bank" of cash value for?
We were missionaries for 2015 in Honduras. We worked hard but didn't get paid. I did anesthesia, and my wife Andrea taught first graders. It was a comfort to know that we had instant access to a pool of cash for emergencies during that year. Good friends of ours had a financial need back in the U.S. and we were able to loan them $10,000 to help them get through a difficult time–while we earned no money serving in Honduras. Pretty cool.
I enjoy rehabbing and renting commercial real estate. We found a distressed property which we were able to pay cash for, completely rehab it with our own cash, put eight good tenants into the building, and then finance the property with a traditional bank loan at great terms. (A fully rented building is a desirable investment for a bank. They don't like empty commercial buildings.)
Here's the point: our "personal bank" of cash value allowed us to be in control of the entire rehab process. I simply wrote checks for the purchase of the building, and for all the work done during the year. Without a pool of cash, I would not have been able to acquire this property. With eight good tenants this property positive cash flows nicely.
We recently bought a vacation cottage in beautiful northern Wisconsin. Since we are paying for our daughter's college, we didn't have the extra cash for the $40,000 down payment. No problem. We used our cash value.
Last story: We just closed on another office building. It's empty and needs a little work. The traditional bank financing fell through at the 11th hour. My banker asked if there's any chance we had $150,000 cash. At first, I thought "no way." Then I realized, "of course!" I have cash value. So, we closed on time because we had our "own bank" of cash to pull from. Now we are rehabbing the new building with our own money. Once it's filled with tenants, we will refinance it and pull our cash out and do it again.
The point is this: having whole life insurance has allowed us to do all of this. It's truly a unique and remarkable financial product that lets a person use a dollar to perform so many different, important functions all at once.
For creative entrepreneurs, it can empower us to make our dreams and vision become reality.
Thank you, McFie Family, for helping the Hryszczuk Family!!
God bless you all!!
—————————
For fun the Hryszczuk Family likes to travel, spend time together at their lake cabin, and have friends over and grill out.