Meet Janice Jackola of Lebanon, OR. We first met Janice in 2008 when Tom spoke at a local business meeting. Janice worked with her brothers in the family logging business, and what he shared about using cash values in Whole Life insurance policies was nothing new to her.
Her brothers had owned participating Whole Life policies for years. They had borrowed from their policies for operating expenses of their business. What was new and different was how they could be paying themselves back for the use of their money and how they could use participating Whole Life policies to finance their personal life as well.
It's been a pleasure assisting Janice, her husband, Bob, her brothers and other family members over the years. As bookkeeper for the logging business, Janice made alterations to how they used their WL policies to better benefit themselves and their business. With happy phone calls Janice has divulged how she has used her and Bob's policies personally to better manage their expenses.
Recently Janice began a new business venture with her daughter, Janelle.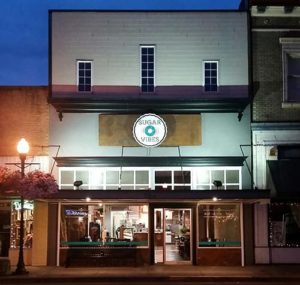 A baking business offering cupcakes was one of their first thoughts because Janice had previously baked and sold birthday and wedding cakes with great success. They went looking for baking equipment. Their search led to donut making equipment in excellent condition and at a reasonable price. Considering that Lebanon did not have a donut shop, their decision was made.
With the purchase of the equipment in February of 2016, they were introduced to a donut shop owner in Portland, Oregon. He invited them to his shop to work alongside him to learn donut making skills. After spending a week with him, they had the confidence they needed for the next step…finding a location for their business.
"That's when we found this really cool, old building that was built in the 1900s, in downtown Lebanon. We renovated the building and started the business." Facebook was full of excitement for the shop to open. Lebanon, a small town with big taste, was hungry for donuts!
On July 16th, Sugar Vibes opened its doors to the public. The donuts were such a hit that they were completely sold out by 9am! Less than three weeks later Janice says, "This business has been more than we ever expected."
Besides offering their customers great donuts and coffee, Janice and Janelle have given Sugar Vibes a warm, friendly atmosphere making it a comfortable place for people to gather. "Besides the regular line of customers just coming for donuts, we have moms with small babies, church groups, young college age students, and older people coming here to enjoy the morning and talk with each other." Janice says it's fun to see their customers forget about phones and computers in favor of talking with other customers gathered in the shop.
Congratulations to great people and a great business, serving the community of Lebanon, Oregon!
* Update: Janice and her daughter have just recently opened a second location in the rural town of Sweet Home, Oregon.
Sources: Janice Jackola and the Living Richly newsletter 2016
Ready to see how The Perpetual Wealth Code™ can work for your business?

Book a Strategy Session