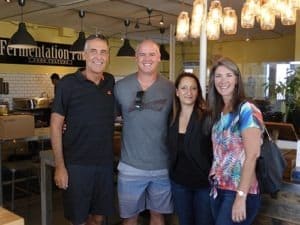 Meet Derek and Yasmine Mason of Southern California. The Masons are both chiropractors. Derek has a practice in Newport Beach, California and they've been clients with McFie Family Insurancefor over five years. They have two children, and while Yasmine stayed home with them, she ventured into her kitchen and experimented with fermenting foods. She came from a foodie household, her dad is a chef and her mom is French. As she got further into fermenting foods and drinks, learning more and more about the amazing health benefits, her friends and patients began purchasing these foods for their own families.
When fermenting crocks took over the family kitchen, Yasmine knew she had to do something about it. So two years ago she and Derek took loans from their whole life policies to open a fermented food shop in Costa Mesa, California called Fermentation Farm.
Since opening, the business has really grown! In two short years, they have expanded twice…again from policy loans, more than doubling the size of the shop. Yasmine currently has 14 employees, has been featured by several news outlets along with amazing reviews on Yelp.
Doctors throughout Southern California refer their patients to Fermentation Farm where they know organic fermented foods are available that will feed their bodies the right kind of bacteria to promote health and healing. Even a local emergency room called Fermentation Farm to refer a patient suffering from poor digestion!
Some of the McFie Family recently visited for the very first time. On entering the cheery yellow shop, we were greeted by the clerk at the register, standing under a "Mason" jar light fixture handmade by Yasmine. "We're partial to Mason jars," Yasmine grinned.
Clean and smiling workers buzz around the spotless kitchen surrounded by gleaming white subway tile and stainless steel. Part of the kitchen turns into a classroom one evening each week where Yasmine shares her recipes and people learn how to ferment foods and incorporate them into their diets.
All kinds of crocks stand by holding various fermented foods in different stages of the fermenting process. Customers help themselves to products in the refrigerator and freezer, enjoy samples and chat with each other and the friendly staff.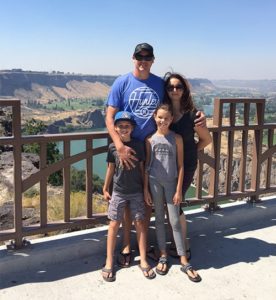 We received a royal welcome as Derek and Yasmine proudly showed us around and gave us samples from their Kombucha Bar,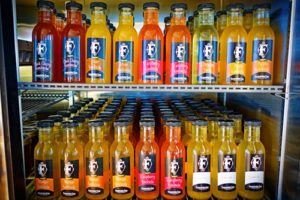 where they had several different flavors of fermented tea on tap. Although they also had a table arrayed with food samples for their customers, Yasmine stepped into the kitchen and brought out a tray of hand-selected items for us to try…Garlic Kraut, Plain Kraut, Beet Kraut…with 5 different …vegetables, Pico de Gallo and a Dill Pickle.
The last sample to come out was their award winning Zingy Yogurt which received an award for Best of Orange County 2016. The mother culture is over 200 years old. Thick, creamy and flecked with vanilla bean, it's easy to see why it took the prize.
In their leisure time Derek and Yasmine like to take time to travel with their kids, play at the park and sometimes just stay home and read together.
Can you imagine how difficult it would have been to attempt to get commercial financing for a business startup "Idea"? Look what can happen when you save, and have access to your money though!
Sources: Dr. Derek Mason, Dr. Yasmine Mason, and the Living Richly Newsletter 2016
Ready to see how The Perpetual Wealth Code™ can work for your business?

Book a Strategy Session