What Is Term Life Insurance?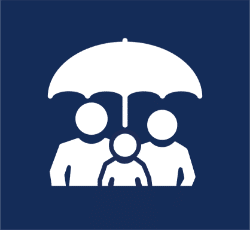 Term Insurance is a type of temporary insurance that provides life insurance protection with no cash value or growth. It can be purchased as a one-year renewable term, or most commonly, for a certain period (10, 15, 20 or 30 years). At the end of the term period, premiums will become much higher, and if premiums are not paid, the coverage will expire.
Benefits
Provides life insurance coverage for a period of time at a low cost
May be converted to permanent life insurance in the future
Cost
Premiums for term insurance generally start out very low and rise until they become very high and cost-prohibitive. Term insurance will be the least expensive when you are the youngest. With a one-year renewable term policy, premiums continually rise every year. For a 10, 15, 20 or 30 year term, premiums are level for a set period and then will jump to the expensive one-year renewable rates.
Who It's For
For those who want life insurance protection for their family and/or business at a relatively low price for a certain period of time.