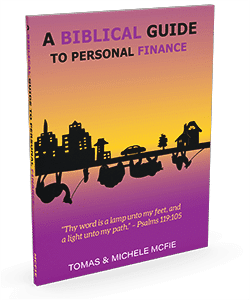 Biblical teachings about money, finances, and stewardship are timeless.
A Biblical Guide to Personal Finance begins by exploring what money is, and what it is not. Building upon this foundation, it then explores biblical teachings on tithing, giving, working, saving, stewardship, and debt.
A systematic approach for applying these biblical teachings to everyday life is then presented. This approach provides an effective solution for those who desire to rise above fiscal survival and succeed in creating the economic means necessary to benefit themselves and others.
This book is for singles, married couples, families, and business owners to understand how to better manage their money.
Special details are included for married couples which will empower them to strengthen their relationship by following biblical guidelines about money, finances, and stewardship.
Parents will find this book helpful when teaching their children to become financially confident, monetarily conscientious, and fiscally compassionate.
Business owners will find solutions for improved cash flow and the ability to overcome the cost of interest they would normally lose when spending their own capital or borrowing from others.
Order your copy of A Biblical Guide to Personal Finance today.
$20.00 - Free Shipping