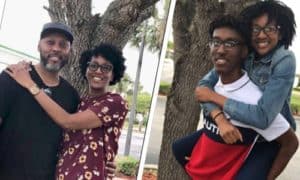 Meet the Green Family from Palm Bay, FL! Becoming their own Money Managers and following the Perpetual Wealth Code™ this family has used their policies (and creativity!) in some unique ways. But before we go on, lets meet the family.
Brian is a person who likes dealing with computers and technology. Quite naturally, his chosen profession for the past 20 years has been that of a Computer Engineer. Carlean also has an important job as an "at home mom" to their two children, Jonathan and Jaiyana.
Before discovering the Perpetual Wealth Code™, Brian and Carlean wanted to build wealth, they just didn't have a specific direction or plan. To use Brian's own words, it was "organized chaos". In pursuit of something better, began googling and doing lots of research. Their search led them to Tom McFie, designer of the Perpetual Wealth Code™. Brian recollects his meeting with Tom, "He gave me more clarity on how the process worked and essentially answered all the questions I had."
Purchasing policies through McFie Family Insurancewas the next logical step for the Greens. Brian and Carlean became their own Money Managers and started following the Perpetual Wealth Code™. Now, after a couple years, they have been able to use their policies and the principles of the Perpetual Wealth Code™ in some unique ways.
Not too long ago, when the family was due for cellphone upgrades, the Greens were faced with the decision of whether or not they would purchase the Apple Care warranty. The warranty would replace their new iPhones if needed. After careful thought, Brian and Carlean decided not to purchase the warranty. Instead they would pay themselves the amount they would have been charged by Apple to purchase that warranty. Here was their reasoning:
Setting this money aside, they would have the money needed to replace a phone, if necessary
If they didn't need to replace a phone, they would still have the money
That's some good Money Manager thinking, wouldn't you say?
They have also used their policies for their daughter's private schooling expenses. Borrowing from their policies to pay annually, instead of monthly, saved them $1,000. But they didn't stop there! Understanding that when they borrow, they need to pay back, that's exactly what they're doing. And just like every good Money Manager, they expect interest to be paid…so they are paying interest too. This means their money will be ready for them to borrow again in the future when needed. As Brian says, "It's a win-win situation."
In order to do this, "You have to be disciplined," Carlean explains. "And, if you take the time to discipline yourself, you can do it!…it's something you can manage."
Brian adds, "Personally, I don't think anyone would care MORE about our money than we would. So, yes, there is more work involved, but anything worth having is going to take some time and some work. I definitely think it's worth it." Setting up their own monthly payment plan to save $1,000 for a year of tuition, is good repayment for that work!
The Greens are also teaching these Money Management skills and principles to their children. Based on these principles, Jaiyana, their 13-year-old daughter, has been able to purchase her own laptop. "She's basically using the same method, but instead of using a life insurance policy, she has it in a savings account," Carlean explains. Good job, Jaiyana! In a few years, when Jaiyana is 18, she will be able to purchase her own Life Insurance Policy and her profits will be even greater because of the guaranteed values and dividends her policy will provide her.
"This plan is really teaching us how to just be grateful," Carlean says. "I'm extremely excited at the fact that we were able to find (the Perpetual Wealth Code™). It's doing wonders for our family!"
To the Green Family: Congratulations on becoming your own Money Managers! It is a privilege and honor to be working with your family.
For fun, the Greens enjoy traveling to new places and making memories, basketball, volleyball and bike riding. They also like cracking jokes, singing and dancing. In a nutshell: Hanging out with each other enjoying the life God has blessed them with.
Sources: Brian and Carlean Green and the Living Richly Newsletter, 2018