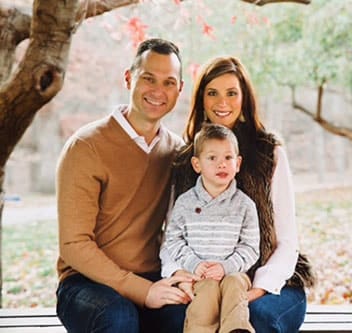 Dr. Nick Nanninga, a successful chiropractor in Iowa, was introduced to the concept of money management and the Perpetual Wealth Code™ a few years ago, when some of his mentors and friends started implementing these strategies in their own lives.
"These weren't just ordinary successful guys," Dr. Nick says, "they are super successful and they take the time to research and study on different investment and saving strategies, so when they shared their stories with me, my interest was peaked. I trusted these guys and knew they wouldn't lie to me."
Dr. Nick contacted a company to get the process started, but the course of action recommended to him was aggressive and would have placed his young family in a vulnerable position, and that was not something he felt comfortable doing.
Then Dr. Nick was referred to McFie Family Insuranceby Dr. Terryl Wolfswinkel. "When it came to my family, McFie Family Insuranceseemed like the perfect fit… and looking back, knowing what I now know, I'm real happy with our decision."
Dr. Nick and his wife, Kimberly, purchased a couple policies and began using the Perpetual Wealth Code™ in their lives. But as they tried to share their success with others, including family members, they met with resistance.
"I think anybody that goes into this will feel a little resistance from family members and others," Dr. Nick says. "Just like anytime you're separating yourself from the pack or going a different way.
Dr. Nick finds McFie Family Insurance' blogs, podcasts and resources very helpful to his financial education. He feels he has gained the knowledge to have a conversation and not feel bulldozed when people throw around financial jargon like "Rate of Return".
In November Dr. Nick and his family faced a great loss when his father passed away at age 62 after courageously fighting a very aggressive type of cancer. "He was a very hard worker and instilled high core values in all of us kids. My dad did everything in his power both physically and financially to make sure we would succeed… that was his legacy. His wealth was in us kids and we went on to become doctors, lawyers and highly successful sales consultants."
Over the years Dr. Nick watched what his father went through with his financial nest egg with company closures, stock market crashes, a divorce and then his illness. After medical bills, taxes following 401k withdrawals, travel expenses, assisted living and lost income, his life insurance policy was the only thing left. "I think in the back of his mind, he always knew that with the life insurance there would be something to cover final expenses and leave a legacy."
The Nanningas are using the legacy left by Dr. Nick's dad in a way that will continue to bless their family for many, many years. Next on the horizon, they will purchase a policy on their three-year-old son followed by a policy for their daughter who will be born this spring.
They also have plans to use the Perpetual Wealth Code™ to pay off a sizeable business debt, which will free up a significant amount of their cash flow.
"We're starting something different for our family and going further down the road in a direction most families might not go. But we're excited about the opportunity to have control of our money, access to our money, and know that it's guaranteed and that it's safe.
"We're able to plant a seed that 30 years down the road is going to germinate into something so wonderful. We're going to be really happy we did it this way. The legacy for our family will be incredibly big and powerful and that get's me most excited!"
Dr. Nick reminds us that this is not a "get rich quick" type of thing, "This is a 10-30-50 year type of thinking and it's something to look at very seriously, if you are serious, about wealth creation and leaving a legacy of wealth behind for your loved ones."
Wouldn't Dr. Nick's dad be pleased!
Dr. Nick is starting policies for his kids while they're young… the growth his kids see in their policies during their lifetime will be unbelievable!
Sources: Dr. Nick Nanninga and the Living Richly newsletter 2016
Ready to see how The Perpetual Wealth Code™ can work for your family?