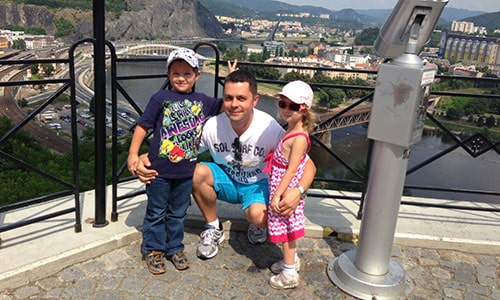 Like "Rags to Riches" stories? Here's one for you:
Less than 20 years ago, Mira Beck lived in the Czech Republic and managed a MacDonald's in Prague. He made what was considered a good salary…$2000 a year. Imagine his excitement when he found an amazing job opportunity in the US.
A group of old oil towers needed to be taken apart. It was anticipated that the project would take 6 months and the company was willing to offer $6,000 – $8,000 of compensation for all qualified applicants. One of the qualifications was the ability to make a deposit of $3,000 before beginning work.
Mira and his dad talked it over and his dad decided he would sell the family's only asset, their car, to raise the $3,000. With the $3,000 in his pocket, and an extra $200 his dad gave him "just in case", Mira arrived in New York City on Thanksgiving Day.
After meeting with the job officials in the Empire State Building, and making his $3,000 deposit; Mira waited for the training day. As you may have already guessed, that training day never arrived. It was then that Mira realized the whole thing was a scam, and he would never see the $3,000 again.
Making quick calculations Mira realized that if he went back to Czech and found work it would be about 10 years before he would be able to repay the $3,000 his dad had given him.  Things looked bad.
"If I have to sleep under a tree, it might as well be a palm tree!" Mira declared. Using his "just in case" money, he purchased a Greyhound bus ticket, and went to Tampa, FL.
He found a job that paid $5.50 per hour and went to work. He worked and saved. In a very short time he bought a bicycle, then a car. He also started school so he could learn to speak English.
From there he went on to college in St. Petersburg, graduating with a degree in Television and Video Production.  As soon as he got out of college he started Beck Audio Visual Services, a successful company that specializes in High Quality Video Production.
Mira is currently expanding his business, helping business owners around the country create quality video materials to better reach their target audiences. When you come to the Wealth Summit in September, be sure to look for Mira. You'll find him doing an amazing job of running our sound, lights and capturing the event on recording.
So what about Mira's dad and the $3,000? Mira repaid his dad long ago, and he makes frequent trips to Czech to visit his family…taking his son, Mira, and daughter, Adela along with him.
Mira makes a point to take a moment on Thanksgiving Day just to be grateful for an adversity that helped him to push forward to greater success.
Sources: Mira Beck and the Living Richly Newsletter 2015