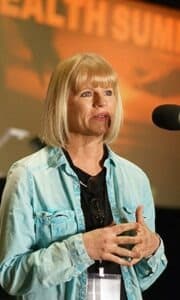 Meet Dr. Ruth Bowen from Longview, Texas! As a young adult, Dr. Ruth was employed in a chiropractic office. Enjoying the atmosphere and the natural way of providing health care, she made a decision to become a chiropractor herself. So off to college she went where she met her future husband, also studying to become a chiropractor. Married in their last year of college, Dr. Ruth and Dr. Brandon began practicing in a chiropractic office right after they graduated. A year later they opened their own clinic in Longview, Texas which is Dr. Ruth's hometown. They have been practicing there ever since.
"We have a successful practice," Dr. Ruth notes, "however, we have had some difficult things happen to us along the way." After some major health issues, and an untasteful experience with an associate who embezzled quite a bit of their money, the Bowens found themselves in a position where they were struggling financially.
One day, while attending a real estate investment seminar, Dr. Ruth heard about using Whole Life policies as a financial tool to maximize wealth. She thought it sounded too good to be true, and the person selling the product seemed a little shady so she didn't pursue it further at that time. When she read about something similar (The Perpetual Wealth Code™) by Dr. Tom McFie in one of the chiropractic journals, she downloaded his book, Prescription For Wealth, and read it.
"I felt like Dr. McFie answered a lot of my questions," Dr. Ruth says, "Once I met you guys (McFie Family Insurance) I felt like you really knew your stuff, and that I had come to the right company." Wanting to turn their finances around, Dr. Ruth says, "I decided to go ahead and jump in, even though I still didn't understand it completely." Dr. Ruth even sold one of their vehicles and used the money to buy a policy.
She has used the Perpetual Wealth Code to get out of debt and recapture some of the money that had been funneling out of their life. Next, she started using it for vacations and to purchase and rehab properties. "I used to carry a lot of credit at the bank," Dr. Ruth says, "But I don't have to do that so much anymore because I'm able to do that from my policy." The Bowens have also been able to purchase some acreage where their kids can run, play, fish, ride motorcycles and spend time outdoors just being kids.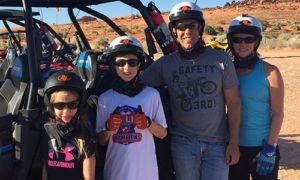 When asked what she plans to use her policies for in the future Dr. Ruth thinks a while and says, "We have one big purchase we'd like to make in the next couple years and that would be a swimming pool." Then pausing, she laughingly adds, "That is my KIDS big goal. But I just see continuing to use it to grow our assets, for retirement purposes, cash flowing businesses and real estate." As her kids get older, Dr. Ruth is also planning to use her policies to finance cars and college expenses. It's important to her to teach her kids about the whole process so they can continue what she's started.
Dr. Ruth has now been using The Perpetual Wealth Code for several years. "I still have questions and things that pop into my head about it, but now that I've been into it for several years, I completely trust and love the process. I feel much more secure than how I used to feel. Number one because of the life insurance aspect of it. You really need life insurance because from personal experiences life can be short. You just never know. It's a nice feeling of security that we have a little cushion for things that pop up out of the blue. We can take blows and bounce back much quicker."
Last year, Dr. Ruth came to her first Wealth Summit and said she really enjoyed it. "I loved meeting like-minded people, hearing new ideas, different ways of utilizing the policies and it was very, very enjoyable to meet all of you (at McFie Family Insurance) as well." She is hoping to come to the Wealth Summit again this year, it's on her calendar.
When asked what Dr. Ruth would tell someone who is considering using The Perpetual Wealth Code™ and Whole Life Policies to maximize wealth, here is what she says "At the beginning its kind of slow, and can be difficult to wrap your brain around the concept. But the way I look at it is: Number one, you need life Insurance so if you're going to purchase it anyway, why not use it to your advantage? And, as the policies grow, you'll understand it more and more. Just go ahead and jump in. Start small if you have to, watch the process and prepare to be pleasantly surprised. It's a very exciting thing when you realize you're recycling and reusing money…it's not always funneling out of your hands anymore, its actually coming back to you and it's a great feeling!"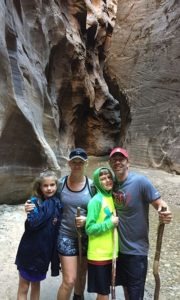 For fun, the Bowens enjoy spending a lot of time outdoors on their acreage and also traveling. Now that their kids are old enough they enjoy taking them to different places to go hiking. Most recently the Bowens took a trip to Zion's National Park in Utah where they had a wonderful time canyoneering, riding the sand dunes and hiking. Their favorite hike? The Narrows. "It was just phenomenal. Absolutely amazing!" Dr. Ruth reports. "Walking in the river, on the rocks, going further and further back, getting narrower and narrower in the canyon…It is just amazing."
Sources: Dr. Ruth Bowen and the Living Richly Newsletter, 2017