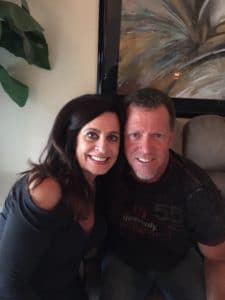 Meet Dr. Renny and Margie Edelson from Florida! Dr. Renny's life started out full of suffering. As a child, he was extremely sick with severe allergies, asthmatic bronchitis and was inside his pediatrician's office and/or a hospital 2-3 times a week.
At the age of 4, he drowned in a friend's swimming pool, spent a few weeks in a coma and overcame the official pronouncement that he was dead. Because of these things, Dr. Renny was often told he couldn't do things. His response has always been to fight back and try to prove the naysayers wrong.
This led him to question a lot of things that are traditionally accepted. Things, such as going to the doctor and swallowing medications and pills just because the doctor told him to. He wondered why taking asthma medication allowed him to breathe, but his asthma didn't go away. Why?
Through this questioning, Dr. Renny learned about the nervous system and discovered the profession of people who focus on healing through the nervous system: chiropractors. Through his study, he found his calling and became a chiropractor.
Even though Margie had known Dr. Renny's brother for years, it wasn't until a mutual friend introduced them that they met. When Dr. Renny asked Margie if she would help him in practice, Margie sold her salon and concentrated on the "back of the house" stuff, allowing Dr. Renny to help more people while knowing the office was in good hands. "He told me that I wouldn't have to work weekends and that it would only be part time. Well, that was the biggest lie, ever!" laughs Margie. "I work a lot of hours, but it's been a great journey and a great blessing."
Several years ago, while attending a chiropractic event, Dr. Renny met another chiropractor, Tom McFie of McFie Family Insurance. "Let's just say that he changed my paradigm on a lot of things." Although the Edelson's financial picture wasn't bad, Dr. Renny says, "I just didn't know what I didn't know. We kind of grow up under the ideals of our parents and the things that we were taught by the people around us. Somewhere I knew that there was a different way, I just didn't know where to look for it. Tom McFie opened my eyes to a completely different way of thinking."
The Edelson's began learning lots of things: the 10-20-70 Rule, a way of saving and financing your lifestyle, The Perpetual Wealth Code™ the way to fund your purchases and create perpetual wealth and about using Participating Whole Life Insurance as a financial asset, as well as a legacy. The Edelsons already had some policies. Unfortunately upon review, they found that only one or two of them were designed for the Edelson's maximum benefit. So, they worked with McFie Family Insuranceto replace the less desirable policies.
Fast forward to today: "If it wasn't for restructuring and having things the way we do, we wouldn't be in business the way we are today," Dr. Renny says. Margie adds, "It has afforded us many things that traditionally people would go to banks for. I'm so appreciative to be paying myself back and watching that money grow. Saving and growing thousands and thousands of dollars has really, really, really helped us. It's just been great."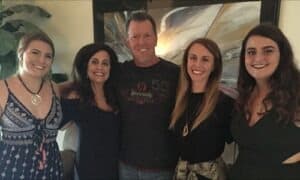 With a family of three girls, the Edelsons have afforded 3 sets of braces, 3 bat mitzvahs and a car for each of their daughters using The Perpetual Wealth Code™ and their participating whole life insurance policies. Planning for the future, Margie says, "I'm sure that those policies will afford us beautiful weddings."
Most recently the Edelsons took a vacation to St. Luisa. "It was wonderful. We hadn't been away in a very long time and it was worth every penny!" Margie reports.
The Edelsons have a big heart and want to share their success with:
Their family,
Their extended family (including the chiropractic profession) and
Every single person they know that does not have a whole life policy that's set up the way the Perpetual Wealth Code™ works.
"It seems that people who are committed to touching and changing the lives of others normally die broke and broken, and it's because they've been leveraged and the banks have made out like bandits," notes Dr. Renny. "That is something that really bothers me at the core."
There is a better way, as the Edelsons have discovered. What a privilege to work with people like the Edelsons who are dedicated to making the world a better place! Good job and keep it up!
For fun, the Edelsons like to, well at this point, all they can think about is going back to St. Luisa and doing nothing. A little Pilates for Margie, a little golf and a couple of good books for Dr. Renny…they're all in!
Sources: Dr. Renny and Margie Edelson and the Living Richly Newsletter, 2017