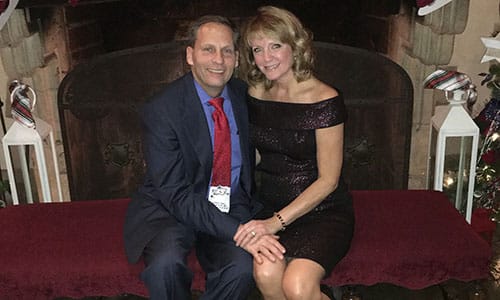 Meet Dr. Jeff and Donna Buller from Michigan. Dr. Jeff and Donna first met each other at a wedding reception where Donna caught the bride's bouquet and Jeff caught the garter! Donna said she was destined to be with a chiropractor because it was through chiropractic care that her parents (who had been unable to have children for 12 years) were able to have her brother, and then later herself.
Dr. Jeff says he witnessed the miracle of chiropractic when he was a small child. His father had a stroke that left him unable to walk. By getting chiropractic care, he was able to walk again.
Later on, Dr. Jeff suffered a severe concussion when hit on the head with a baseball bat. Recovering from this injury, he experienced the benefit of chiropractic for himself. When his chiropractor asked him what he would be someday, Dr. Jeff spoke his childhood dream, "A Professional Baseball Player." The doctor told him to go for it, if he was good enough, and that he should think about becoming a chiropractor. From that day on, he decided he would be a chiropractor. When asked what it's like to be a chiropractor, for 35 years now, Dr. Jeff says one word pretty much summarizes it:  WONDERFUL.
A number of years ago, while reading one of the chiropractor trade magazines, Dr. Jeff stumbled upon an article written by a fellow colleague, McFie Family Insurance' very own Dr. Tom McFie. The article wasn't about chiropractic, it was about a financial solution modeled after the methods of bankers and a specific type of life insurance.
The Bullers had invested in the Stock Market and lost 100s of 1,000s of dollars when they thought it was secure. Dr. Buller explains the stock market like this: "It goes up and down, and up and down. One year you'd be great, the next you'd be cruddy." The Bullers also checked out IRAs, but the lack of control and long-term aspects weren't attractive.
With the Perpetual Wealth Code™, control is not a problem. And with participating whole life insurance, the Bullers realized that the growth on their money would be secure and guaranteed. That's when the Bullers decided to purchase policies through McFie Family Insurance.
Some of the things they've used the cash value in their life insurance policies for are equipment for their office: digital X-ray, cold lasers, a new computer system, etc. Recently, as their son Jeffrey followed in his dad's footsteps and became a chiropractor, they used their policies to fund an expansion to double the size of their office space.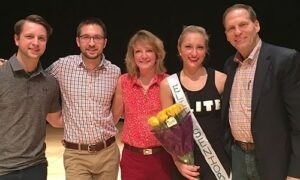 They've also used the cash values to enhance their personal lifestyle: traveling, landscaping and adding onto and remodeling their home. Now their plan is to focus on paying themselves back, so they will be ready to use that money again when an opportunity comes along.
"I like it because I feel like it's a way of getting our money to work for us." Donna says, "And I feel more secure about putting it into life insurance than some other things that we invested in. It's security for me…and then manageability."
Do the Bullers recommend The Perpetual Wealth Code™ to others? Yes, they do. Here's what Dr. Jeff says, "If you're not sure, talk to Tom and Michele. They're honest people who will help you understand the process. And if you're the type of person who wants to be in control of your own finances, instead of letting somebody else be in control, this would be the thing to do."
The Bullers' son, Jeffrey, has also started his course with the Perpteual Wealth Code. They are excited for the results he will get, starting so young. "Opportunities are limitless," Dr. Jeff says, "So you want to make sure that you get your kids started and get your own self started as soon as possible because it will only grow and grow the more you work at it."
Dr. Jeff and his son, Dr. Jeffrey, attended one of the Wealth Summits a few years ago. "Just being around people who are working the same plan makes a big difference. When you're able to hear other people say what they've done and listen to those stories, it makes you realize that you're on the right track." And although Donna wasn't able to be at the Wealth Summit to hear things first hand she adds, "And it gets you even more excited!"
When you meet up with the Bullers at a future Wealth Summit, you'll have to ask Dr. Jeff to speak to you in his Donald Duck voice…that was one of his first impressions on the McFie Family when we met them face to face in 2011.
For fun, the Bullers like to travel. Dr. Jeff is a rode biker and races in the senior Olympics. He rides year-round, inside or outside. And Donna is a singer and musician. She is especially busy during the holiday season, and she also likes to play golf. They both love to hang out with their family, which includes their three children: Jeffrey, Christopher and Shanna, and their 14.5 year old Siberian Husky.
Sources: Dr. Jeff and Donna Buller and the Living Richly Newsletter, 2018