During a life insurance application and underwriting process, it's common for insurance companies to require a medical exam. This exam usually takes 30 minutes and consists of a blood draw, urine sample, height, weight and blood pressure check.  Exam results help the underwriters determine the best premium rates for each policy.
Some insurance companies allow individuals to qualify for life insurance without a medical exam. In this article, we'll answer the most frequently asked questions about life insurance, no medical exam. 
KEY POINTS
Types of Policies

: No medical exam life insurance includes term and whole life options, with term being more affordable and whole life offering lifelong coverage.

Risk Management

: Insurers manage risk in no exam policies by charging higher premiums or using alternative health information sources.

Policy Varieties

: There are three main types: Guaranteed Issue for small coverage, Simplified Issue with health questions but no exam, and Instant Issue offering the highest coverage based on database reports.

Eligibility and Limits

: Typically, individuals aged 18-60 in average health are eligible, with coverage up to $1,000,000 available in Instant Issue policies.

Costs and Suitability

: Costs vary by policy type and age. Guaranteed Issue is most expensive; Instant Issue has similar rates to traditional policies and is ideal for those averse to medical exams but needing substantial coverage.
Types of Life Insurance That Don't Require a Medical Exam
Life insurance without a medical exam comes in several forms, notably in term and whole life insurance policies. Each offers unique advantages and considerations.
Term Life Insurance
This insurance provides coverage for a set period. It's generally more affordable than whole life insurance, with consistent payments throughout the policy's duration. This cost-effectiveness makes it appealing for younger families looking to economize on premiums. It's important to note, however, that the death benefit is only payable if the policyholder passes away within the term.
Term life insurance is also attractive for seniors focusing on long-term planning. Opting for term life insurance without a medical exam can be advantageous, particularly if you have a clear idea of your coverage duration.
Whole Life Insurance
Unlike term insurance, whole life insurance covers the policyholder for their entire lifespan. While more expensive, it guarantees a death benefit. The premiums typically remain steady, and the policy may include a cash value component, growing in a tax-deferred account at a fixed rate. This aspect of whole life insurance can be appealing for those seeking financial security for their families or those interested in investment opportunities. The policy's cash value can sometimes be borrowed against, adding to its investment appeal.
Choosing whole life insurance without a medical exam simplifies the process and provides enduring support.
How Does No Medical Exam Life Insurance Work?
Insurance companies are really good at managing risk.  They review health and lifestyle information on each applicant and use this data to determine what amount of premium will be needed in order for the policy to be issued.  Individuals with a high-risk lifestyle or health profile may be rated or declined.
When there is no medical exam, insurance companies have two options for risk management:
Charge a higher premium for all

no medical exam life insurance

policies

Obtain important information about the proposed insured's health from other sources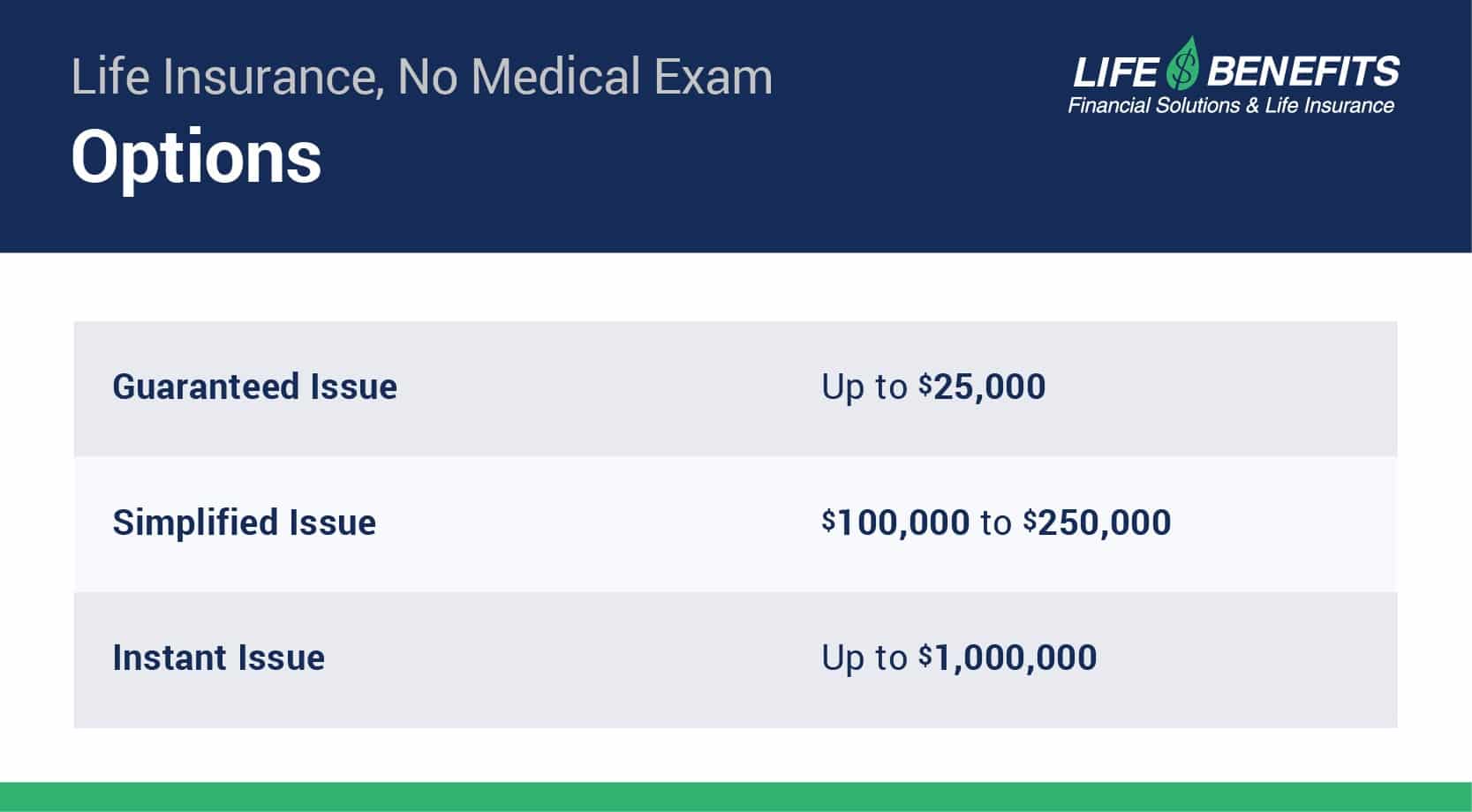 The 3 main types of no medical exam life insurance policies are:
Guaranteed Issue

Simplified Issue

Instant Issue
Information about each of these policies, and the method of risk management used, are listed below.
Guaranteed Issue
Guaranteed Issue, or Final Expense, policies offer a small amount of permanent coverage (up to $25,000) for individuals who meet the issue age criteria of the policy (usually 45-85). There is no health questionnaire and no medical exam for these types of policies.  Because the insurance company has no way to review the health of each applicant, the premium amounts for these policies are set much higher than traditional policies to offset the extra risk assumed by the insurance company. 
Simplified Issue
Simplified Issue policies offer a higher amount of coverage than Guaranteed Issue policies.  Usually $100,000 – $250,000.  This coverage can be Whole Life or Term. Simplified issue policies do not require a medical exam, but the applicant will need to answer specific health questions as part of the application process. Premiums for Simplified Issue policies will also be significantly higher than traditional policies.  In addition to higher premiums, many Simplified Issue policies have a graded death benefit and only pay a claim if the insured dies 2 years after the issue date of the policy.
Instant Issue
Instant Issue policies include permanent and term options.  These policies provide the most coverage, (up to $1,000,000) for individuals ages 18-60, without a medical exam.
Instant Issue, or Instant Approval, policies utilize a process called Accelerated or Express Underwriting.  During the underwriting process, reports are generated from databases like the TransUnion database and provide enough information for the insurance company to set the policy's premium rates without needing the results of a medical exam.  
Occasionally the database may not have enough information on an applicant to put a report together for the insurance company.  In the case where Accelerated Underwriting cannot be completed, traditional underwriting with a medical exam would be required.
Instant Issue policies share the same rates as Traditional policies.
Who Is Eligible For No Exam Life Insurance?
Eligibility for no medical exam life insurance varies from company to company and is based on the type of no medical exam life insurance policy wanted.
Generally, individuals in average health between the ages of 18-60 can qualify for no medical exam life insurance. 
NOTE: Most children under the age of 18 do not need a medical exam to qualify for life insurance. Click here for more information about life insurance for children.
How Much Life Insurance Can You Get without a Medical Exam?
Without a medical exam, individuals in average health between the ages of 18-60 can get up to $1,000,000 of life insurance with an Instant Issue no exam policy.
How Much Do No Exam Life Insurance Policies Usually Cost?
Premium rates/costs of no medical exam life insurance policies vary by type of policy, insurance company and the insured's age.
The less information an insurance company knows about you, the more you will pay because the insurance company is assuming more risk.  Guaranteed Issue policies will be the most expense, for the coverage amount purchased, followed by Simplified Issue.
Instant Issue policies share the same rates as Traditional policies.
Should I Get No Medical Exam Life Insurance?
If you are in average health, between the ages of 18-60, but just hate needles… Instant Issue no medical exam life insurance is the perfect solution for you.  
But, Instant Issue policies only cover up to $1,000,000, so if you need more coverage, it's best to go the Traditional underwriting route.  With Traditional underwriting the insurance company pays for your exam, there is no charge to you or to your health insurance.  And, you will have access to the results of your medical exam, so think of it as a free physical.
At McFie Insurance, we specialize in designing the best life insurance policies for you. After reviewing your financial situation, we'll help you find the plan and coverage amount that will be best for you, so that you can have peace of mind.  Get in touch with us today and schedule a free strategy session now.