Store Detail
NEW Book

– A Biblical Guide to Personal Finance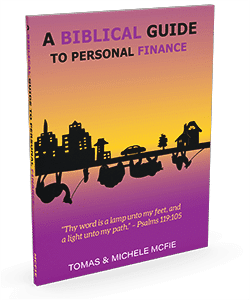 Biblical teachings about money, finances, and stewardship are timeless.
A Biblical Guide to Personal Finance begins by exploring what money is, and what it is not. Building upon this foundation, it then explores biblical teachings on tithing, giving, working, saving, stewardship, and debt.
A systematic approach for applying these biblical teachings to everyday life is then presented. This approach provides an effective solution for those who desire to rise above fiscal survival and succeed in creating the economic means necessary to benefit themselves and others.
This book is for singles, married couples, families, and business owners to understand how to better manage their money.
Special details are included for married couples which will empower them to strengthen their relationship by following biblical guidelines about money, finances, and stewardship.
Parents will find this book helpful when teaching their children to become financially confident, monetarily conscientious, and fiscally compassionate.
Business owners will find solutions for improved cash flow and the ability to overcome the cost of interest they would normally lose when spending their own capital or borrowing from others.
Order your copy of A Biblical Guide to Personal Finance today.
---
How to Build Sustainable Wealth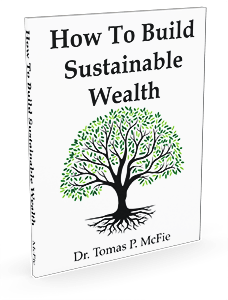 The financial system in America today has been designed to transfer wealth from working Americans into the coffers of the government and the bank accounts of bureaucrats, politicians, and financial planners.
Financial planners try to predict the future. They think they can predict how much people can earn every year, how much money someone will need to live on in retirement and their "risk tolerance". Realistically, you could classify financial planners as fortune tellers. Maybe some sort of sophisticated fortune teller since they set up shop in commercial buildings rather than tents on beach boardwalks.
Beyond their attempts at fortune telling, financial planners are notorious for advising people to put their money at risk and get into plans that are controlled by the government, bureaucrats and politicians. This advice will cause many Americans to lose thousands of dollars that they could have kept for themselves.
It is no secret people are losing money because of typical financial advice. For many, retirement will not be financially possible without social security. More than ever before, Americans need to build sustainable wealth.
With the knowledge on how to build sustainable wealth many people can do better without a financial planner. This book gives you the knowledge you need to build sustainable wealth, and have peace of mind about your financial future.
---
Winning Your Financial GAME – Paperback book & Study Guide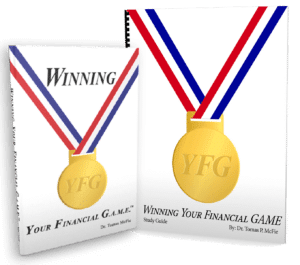 Why do some people seem to have the "Midas Touch" while others seem to self-destruct financially? There are some specific reasons.
In researching successful people from the past and the present, Dr. Tomas McFie has discovered that financially successful people have three common traits:
A strong desire to win,
A solid realization that they are determined to win, and
A spirited discipline which affords them to win.
Anybody who adeptly appreciates these three traits and appropriately applies them becomes successful. There is really only one drawback and that is this: Most people tend to do what everybody else is doing. Therefore, these traits which successful people diligently discipline themselves to apply elude most people.
Your Financial GAME™ (YFG) is about success and significance, both of which are noble goals. Understanding how to create a concise GAME (Guaranteed, Available, Manageable, Equity) plan will put you on track to winning YFG.
You will never be guilt-ridden or shame-faced believing that your wealth is acquired at the expense of other people when following the course McFie outlines here. Instead, you will become an inspiration, encouraging and enabling others because of the success and significance you are achieving in YFG.
Using powerful historical examples of men and women who are in the financial Hall of Fame, this book contains the financial moves you need to be familiar with in order to win YFG.
Study Guide: 46 page Spiral-Bound Study Guide with activities and exercises.
The Winning Your Financial GAME Study Guide is the guide that will engage you in activities, training you on how to think and act so you can Win.
Good for learning, and sharpening your understanding.
It's a great compliment to the book, Winning Your Financial GAME.
Get the Book Only $15.00 – Free Shipping
Get the Study Guide Only $12 – Free Shipping
Get the Book and Study Guide Together for $20 – Free Shipping ($7 Savings)
---
Prescription for Wealth – Paperback book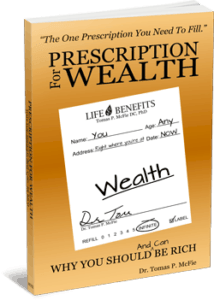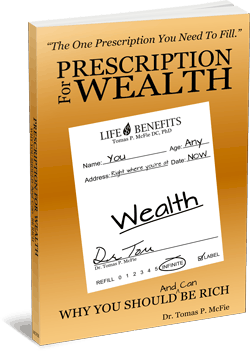 In the forward to the Prescription for Wealth, R. Nelson Nash the author of Becoming Your Own Banker states that the Prescription for Wealth is the "perfect 'precursor' to my own book, Becoming Your Own Banker –The Infinite Banking Concept.  Before reading my book, one should first read Prescription for Wealth by Dr. Tomas P. McFie!"  As gracious as that statement is, Prescription for Wealth was written to tell a simply story, a story in common English, of how money came to be and why it is important to learn how to manage it instead of letting others manage it for you.
The book builds on the idea that everything that one purchases in life has an interest cost associated with it.  Either you pay interest to others when you use their money or you lose interest you could have earned had you not spent your own money.  The cost of interest is ever present.  Yet when using the cash values of participating whole life insurance there is a way that you can "recover" some, if not all, of the associated cost of interest in your life and be able to use it for you own purposes.  This is what the Prescription for Wealth explains to the reader how to accomplish.
Throughout the book the goal remains the same:  Stop losing money that you don't need to lose by becoming the one who finances the things you purchase in life.  The more you manage to accomplish this simple endeavor the richer you will become.  And you should become rich because you ought to be able to keep more of the money you earn in your life, not less, so that you can accomplish the noble goals you have.
You can get the Prescription for Wealth eBook and Audio version Free here.
---
Understanding the Infinite Banking Concept – PDF eBook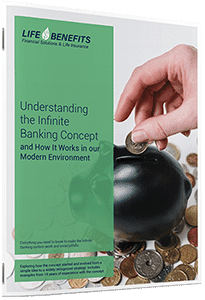 Full Title: Understanding the Infinite Banking Concept and How It Works In Our Modern Environment
This eBook is for people who want to know all about Infinite Banking.
The Infinite Banking Concept, also known as Becoming Your Own Banker, is a powerful idea and has been used by thousands of people in the past few decades. But when Infinite Banking is used incorrectly people lose money.
Some people believe Infinite Banking is a magic solution. Some people believe Infinite Banking is a scam. Other people believe the concept is outdated, and no longer applies in today's environment.
Is Infinite banking a magic solution? Is Infinite Banking a scam? Is Infinite Banking outdated? Find the answers in this 31-page eBook.
This is an important eBook to read before getting started with the Infinite Banking Concept.
Read more about this book here
---
What I Heard In the Hall – Children's Hardcover book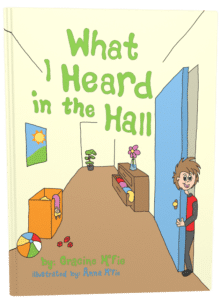 A story that reveals the basic principles for a healthy, wealthy life.
Written in an entertaining manner, it will rivet the attention of readers and listeners of any age.
The story of What I Heard in the Hall is a 60-page rhyming story with delightful illustrations on every page.
This book is an excellent gift for birthdays and holidays and makes a wonderful family read!
Special Offer: Autograph available upon request
---
Grandma's Coffee Can – Children's Hardcover book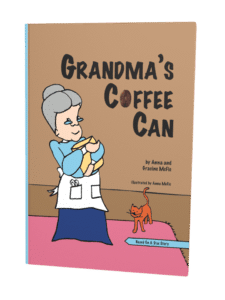 Grandma's Coffee Can is the fun book that teaches kids about good values, wealth and money.
Based on a true story, the book is complete with full page illustrations on all 61 pages and a built in Study Guide with questions for discussion.
Story Plot:
Mrs. Green thinks she is mighty sly. She has found a way to get Grandma's good coffee without paying for it.
Mrs. Green thinks she has fooled Grandma. But she doesn't know that Grandma sees right through her plan.
Grandma knows she must do something to stop Mrs. Green, but what? Even though Mrs. Green LOVES good coffee and isn't going to give up easily. Grandma has a plan she thinks will work.
But will it be enough to stop sly Mrs. Green?
---
Policy Class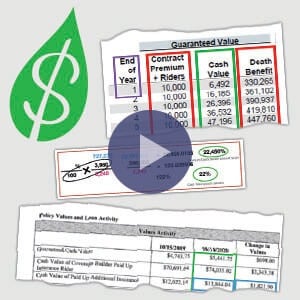 When people own a whole life insurance policy, their premium may get automatically drafted once per month, they may pay their premium online or they may pay with a check once a year. But how is the policy doing?
Is the guaranteed cash value going up? Is the dividend increasing available cash value? What is the growth rate on your policy? Is the death benefit increasing? When will the policy's guaranteed cash value be greater than all premiums paid?
To answer these questions, you will need to look at more than just your annual statement.
It is always nice to know how well cash value is growing and to see the trajectory of your policy so you can plan better and have financial peace of mind.
People say the class is very helpful in understanding their policy growth. It covers how to:
Read an illustration
Read an annual statement
Analyze dividends
Calculate year over year policy growth
Track your policy growth
Understand your policy performance
Access to this class recording is unlimited so you will be able to refer to this class in future years too as you monitor your policies.
This class is perfect for people who own whole life insurance and want to know how their policy is growing. (Run Time = 50:51)
---
Prescription for Wealth Audiobook
Prescription for Wealth Audiobook – Free Digital Download
---
Winning Your Financial GAME Audiobook – Digital Download
No Shipping – Instant Access
Note: Free Shipping within the United States. Call McFie Insurance for International shipping rates.