Becoming Your Own Banker
Unlock the Infinite Banking Concept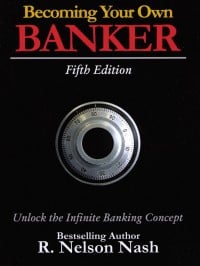 Fifth Edition
by R. Nelson Nash
This is the classic work which made the Infinite Banking Concept (IBC) an internet buzz word. Becoming Your Own Banker is a quick and easy read and provides an understanding of the history of why the concept of participating whole life insurance can be such a powerful tool in retaining money which you earn in life but then turn around and lose due to interest costs.
Nash outlines five basic reasons why the IBC process doesn't work for most people and calls them the "Human Problems." His writing is meandering to the point where some have called him "long winded" but his stories are all told for practical purposes and those who breeze over these stories miss the major significance found in Becoming Your Own Banker.
Charts contained in the fifth edition have not been updated since the first edition was printed in 2000 and therefore are dated and shouldn't be used to project current participating whole life insurance dividends, face values or guarantees. But even though the charts are dated they still provide proof of how owning and using participating whole life insurance as a financial tool, and not just for estate or legacy building purposes, is a practical and powerful asset to those who are disciplined.
Those interested in learning more about the history of how and why IBC or the Infinite Banking Concept came into existence will enjoy reading this book.
Review by Tomas McFie
Go to:
All Book Reviews                 Next Book Review »